Monday May 1st 2017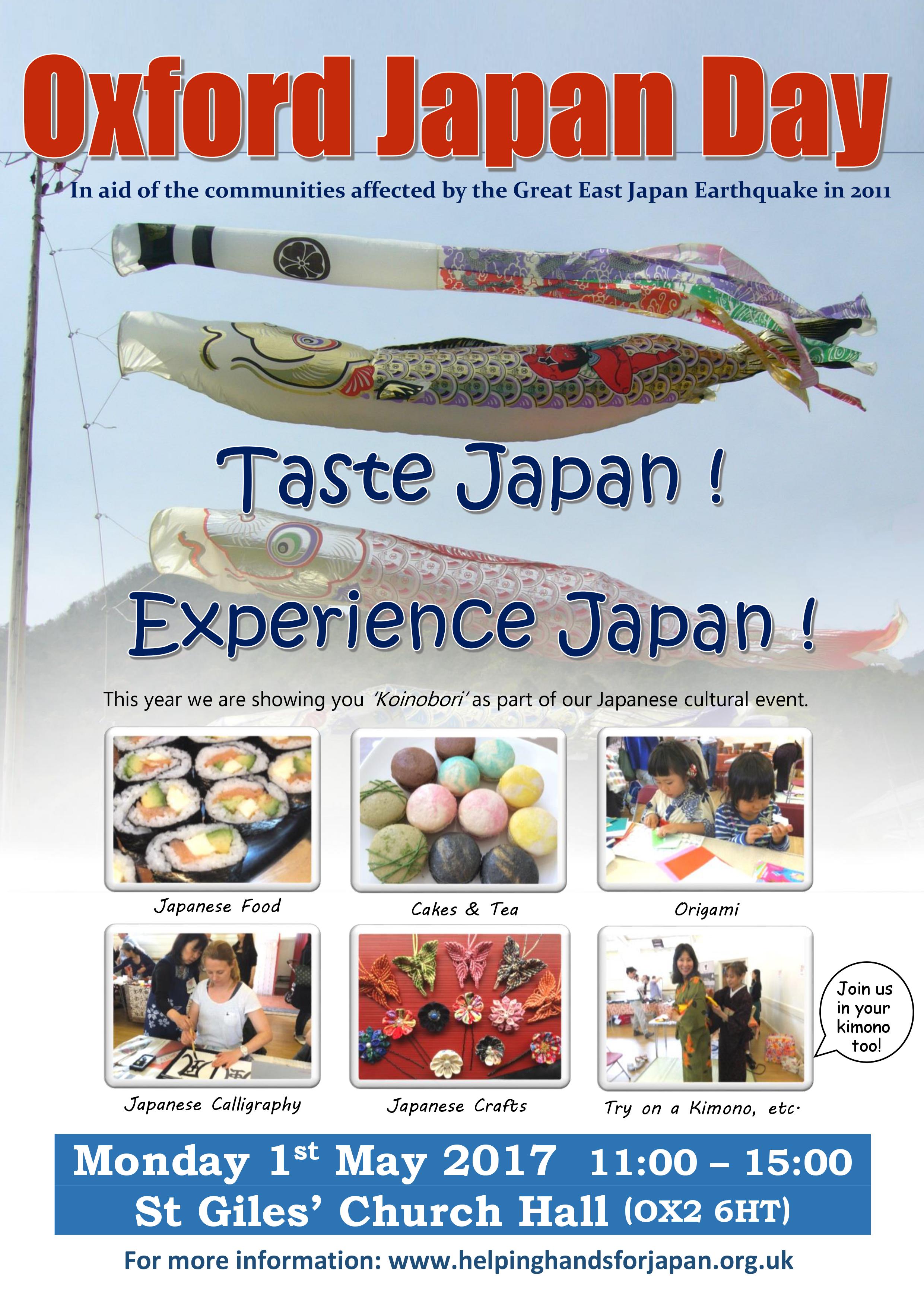 (Right click to save and download)
There will be a charity event, organised by the Japanese Community in Oxfordshire to help communities affected by the earthquakes and tsunami in Tohoku and Kyushu, Japan in 2011 and 2016.
The event takes place from 11am to 3pm and will be held at St Giles Church Hall, Oxford OX2 6HT
The Japanese community in Oxfordshire started this charity event after the Great East Japan Earthquake in 2011 and this is now the 6th year.
We aim to support the people and communities that were affected by the earthquake and are still having difficulties in their everyday life, and also to introduce Japanese culture to people in this country.
***
The money raised from the event is delivered to the affected areas through charity organisations such as Red Cross and Helping Hands for Japan. For the last few years, we've donated it to support the project by Caroline Pover who has been working as a volunteer in Oshika Peninsula in Japan.
Read more about Caroline's work HERE
***
There are sales of Japanese food, cakes & tea and Japanese crafts and antiques, and you can experience Japanese calligraphy, origami, facepainting, kimono fitting and more!
This year we will also introduce 'Koinobori' to you as part of our Japanese cultural event.
Koinobori – from The Japan Australia Friendship Association (JAFA) website:
'Koinobori' means 'carp-streamer kite', and the carp was chosen as the symbol of Children's Day because the Japanese consider it the most spirited fish, full of energy and power to fight its way up rapidly-flowing streams. Because of its strength and determination to overcome all obstacles, the carp symbolises courage and the ability to attain high goals. Since these are traits desired in boys, families traditionally flew 'koinobori' from their homes to honor their sons, though this tradition has developed to include daughters as well.
On Kodomo no Hi (Children's Day), families fly 'koinobori' to express the hope that their children will grow up healthy and strong.
There is a Japanese proverb 'koi no takinobori (鯉の滝登り, carp climbing the waterfall)', which means to achieve success in life.