LATEST NEWS
Monday May 1st 2017 : There will be a charity event, organised by the Japanese Community in Oxfordshire to help communities affected by the earthquakes and tsunami in Tohoku and Kyushu, Japan in 2011 and 2016.
The event takes place from 11am to 3pm and will be held at St Giles Church Hall, Oxford OX2 6HT
Please click on the image below for more details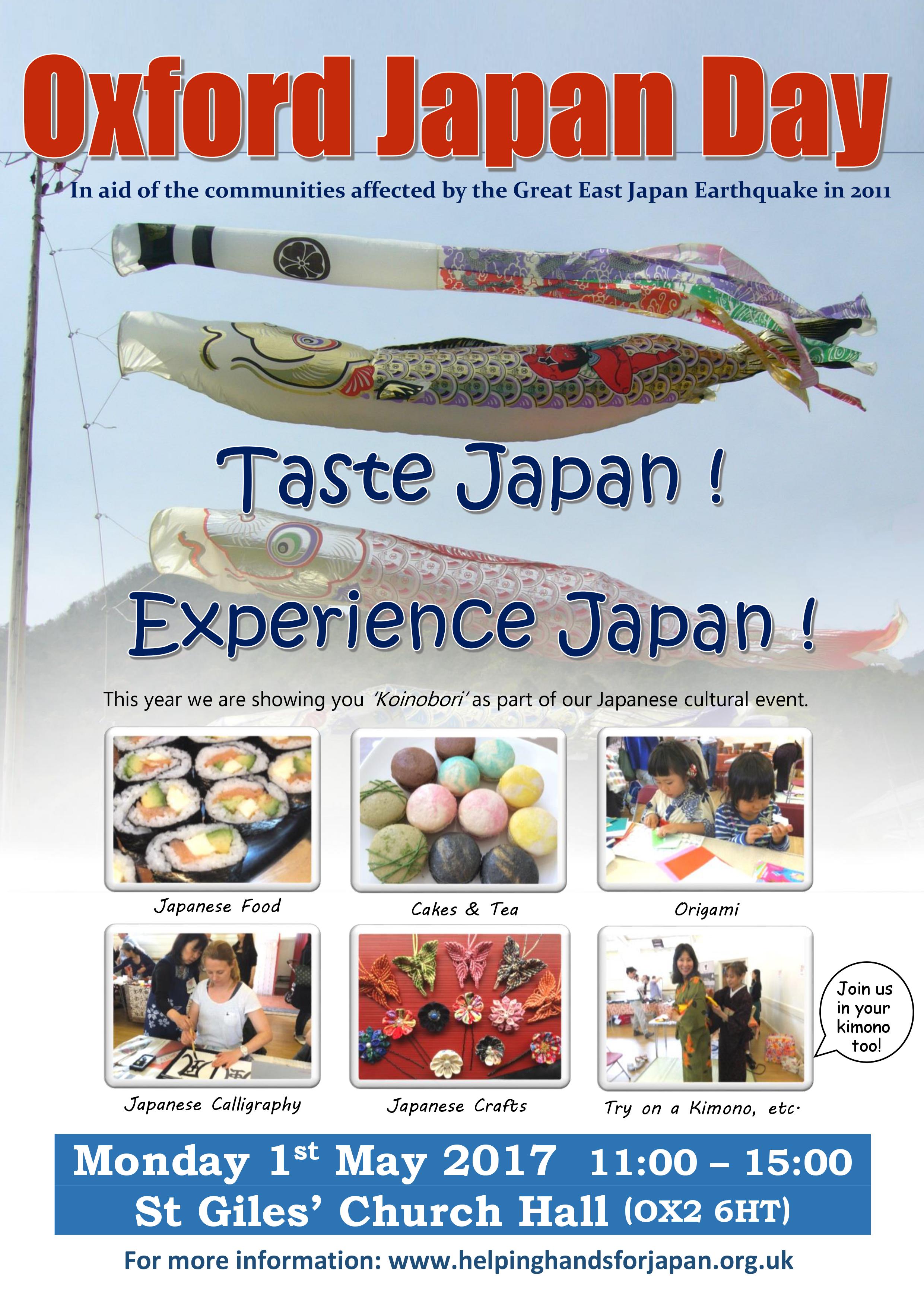 Saturday June 25th 2016 : There will be a charity event, organised by the Japanese Community in Oxfordshire to help communities affected by the earthquakes and tsunami in Tohoku and Kyushu, Japan in 2011 and 2016.
The event takes place from 12pm to 5:30pm and will be held at Summertown United Reformed Church, which is at 294A Banbury Rd, Oxford, OX2 7HN.
Please click on the image below for more details
||||||||||||||||||||||||||||||||||||||||||||||||||||||||||||||||||||||||||||||
On 31st May 2014 a fundraising event was held in Oxford for a new project in Tohoku coordinated by Caroline Pover. This has been an annual fundraising event organised by Yayoi Smith with the help of the local Japanese community. As in previous years visitors could enjoy the variety of fun Japanese activities and delicious food. In the afternoon they were also treated to a superb concert, organised by Machida Michiyo. In the middle of the concert Caroline gave a very honest and somewhat distressing talk about the reality in Oshika, one of the worst hit and most remote areas. While most volunteer organisations have now left Tohoku, Caroline has continued to fundraise, coordinate new projects, educate and inspire. Her latest project is to build them a library which will be a much needed socialising space where there are almost no buildings remaining or rebuilt. We are all pleased to have found a new and extremely worthwhile cause for the money raised which was over £1,500. You can read more about Caroline's previous and ongoing projects HERE and should you wish to donate directly to her cause, you can do so HERE
||||||||||||||||||||||||||||||||||||||||||||||||||||||||||||||||||||||||||||||
Scott Williams has been doing some frankly unbelievably heroic physical challenges to raise money for new Playgrounds of Hope. In April he took part in the 20th Sakura Michi International Nature Run – a 36 hour, 250km hypermarathon from Nagoya to Kanazawa that is recognized as one of the most challenging foot races in the world and as an International celebration of nature and the good will of people from across the world. The race is organized to honor the Japanese bus driver Mr. Ryoji Sato, who dreamed of planting Cherry Blossom Trees along the 266km road from the Pacific Ocean to the Sea of Japan to represent a "Milky Way" on Earth as a symbol for peace across the world. He passed away before he was able to complete his dream, however, the race lives on to honor his dream of peace.
"Sadly again this year I failed to reach the goal in Kanazawa, after being felled with early stages of hypothermia as the rain that had been falling for the previous 5 hours turned to an ice storm and the temperature plummeted at the top of the mountain pass at about the 134km mark in the race after about 17 hours of grinding up the mountain from Nagoya. At least I know that I gave it absolutely everything I had and took myself to the very edge of serious, permanent damage so my supporters feel like they got value for money for their donations. Happy to report though that I made good on my commitment to run 250kms by adding another marathon in May and then a 100km ultramarathon at the start of June – which I am only now recovering from as I embark on my next adventure to run for 24hrs straight in Kanagawa in September at the Hiratsuka 24hr."
You can follow his ongoing fundraising achievements (and make donations!) here:
www.justgiving.com/sakurascott2013
||||||||||||||||||||||||||||||||||||||||||||||||||||||||||||||||||||||||||||||
The Japanese community in Oxford have held another fundraising cultural event and raised over £1,000 for It's Not Just Mud. We would like to put this fundraising towards a new "Playground of Hope" which is one of INJM's main projects. We are hugely grateful to their continued support. If you like Japanese calligraphy (Shodo), origami or great Japanese food then look out for the next one!
||||||||||||||||||||||||||||||||||||||||||||||||||||||||||||||||||||||||||||||
As we approach the two year anniversary of the earthquake, there are many people still working hard to help Tohoku. Joji Hirota is holding a memorial concert in London on 16th March. You can see details about the concert at www.london-tohoku.org.uk
||||||||||||||||||||||||||||||||||||||||||||||||||||||||||||||||||||||||||||||
Caroline Pover is working harder than ever, fundraising in between regular trips to Oshika, an isolated part of Tohoku near Ishinomaki. You can see more about her work here;
http://www.carolinepover.info/earthquake-mission/
She writes a very moving and inspiritional blog about her activities which you can see here;
http://www.carolinepover.info/blog/
||||||||||||||||||||||||||||||||||||||||||||||||||||||||||||||||||||||||||||||
It's Not Just Mud have worked closely with Hashimoto san to produce a book about their work and many of her famous recipes that kept the volunteers going in the early days. Helping Hands is planning to sell the book in the UK shortly. You can get more details about the book here;
http://itsnotjustmud.com/projects/hashimoto-gohan-hashimotos-tohoku-recipes/
It's Not just Mud have published their latest newsletter about their volunteer activities, INJM June 2012 newsletter, and have sent a team to Kyushu to assist clearing up after the severe recent flooding; INJM Kyushu Relief
Caroline Pover is back in Tohoku after further fundraising. She is now working hard with local groups and you can follow her activities here Caroline Pover blog
||||||||||||||||||||||||||||||||||||||||||||||||||||||||||||||||||||||||||||||
David Lee has recently spend time with the volunteer group, It's Not Just Mud to plan further joint projects. They have done a brilliant job restoring two houses which now provide accommodation for volunteers increasing their capacity to include more projects. Amongst these the Playground for Ishinomaki project is moving forward well with the generous financial support of the Stephen Cropper Tohoku Educational Fund.
Sarah Outen has recently completed the Japan leg of her round the world tour and is supporting the winter clothes for Tohoku project. We are pleased to accept donations for this project which can be gift aided by completing the form on the donations page. You can follow her trip online and this entry describes her visit to northern Japan.
We wish to thank Nuclear Risk Insurers Ltd for their very generous donation of £17,832 which has been passed on to a psychiatric clinic in Soma.
We have updated our volunteer in Tohoku programme which gives free full support to anyone wishing to volunteer in Japan. See HERE for further details.
We wish to thank some special people for recent fundraising:
Celia, Teruko, Harriet and Jenny raised £1500 by entertaining 50 people to a cello recital in their barn, with delicious sushi and wine, followed by an enjoyable yushoku typical Japanese supper, made up of various tasty dishes and finished with a display of traditional Japanese dancing."
Simon and Satsuki arranged an amazing birthday party after their two sons asked to have donations for Japan instead of birthday presents. The party was based on "Takeshi's Castle", a well known Japanese TV programme, and raised over £540.

One of our trustees, David Lee, has recently returned from a trip to Tohoku and has completed a report which can be viewed here.
We are delighted what was achieved on this trip, as described in the report. With a permanent representative now established in Ishinomaki we will continue to fundraise, assist volunteers and support identified causes as much as we can.
The Special Needs students at Abingdon & Witney College have done brilliantly in their sponsored event making Origami cranes. To date they have made 640 and their target is to complete 1,000 which will be taken to Japan by David Lee and presented to a school there.
Please see the latest press coverage of Helping Hands for Japan, this time in the Japan Times.
Click
HERE
for the full article.
The children at Woodstock Primary School have produced some excellent calligraphy with messages to be passed on to a school in Japan.
A concert held by the children of Hill View School in Banbury raised £303.85.
£509.73 was raised at a cake sale at the Nuffield Hospital in Oxford – a fantastic effort!
One of our Trustees, David Lee has been in Japan volunteering and factfinding in the affected area. You can read his reports
HERE
Read more about the projects we're supporting HERE
Visit us on Facebook or click below to share with your friends